The Brief
WPP award winning research agency Millward Brown saw an opportunity to utilise their proprietary BrandZ database (the world's first customer-focused brand analytics and equity intelligence tool) to create a range of more engaging custom reports to help WPP agencies strengthen the brands of their clients.
Our brief was to build an always on, fully automated publishing engine that could be accessed from within the secure WPP Intranet via a bespoke marketing app and utilising
the BrandZ data, publish a set of highly creative, personalised dynamic reports at the push of a button.
Our Solution
Our first step was to collaborate with Lambie Nairn over the publication's creative design and Millward Brown on the data structure, enabling them to maximise the creative power within the BrandZ data to make the reports as personalised, dynamic, relevant and engaging as possible.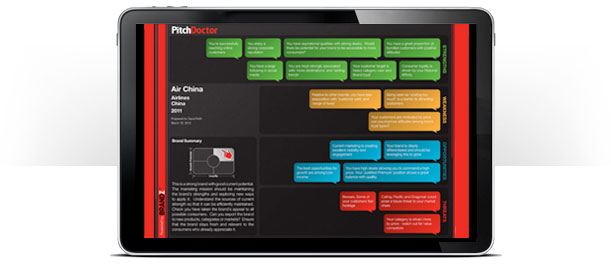 Finally we created a secure bespoke marketing app through which any WPP employee can access any one of the amazing dynamic BrandZ Publications available, via the Inside WPP intranet.
An example of one of these publications is PitchDoctor, everything you need to know about a brand on one page.
Through our bespoke marketing app, any employee can simply and securely create a report in seconds on any one of 50,000 global brand studies at the touch of a button.
A PitchDoctor report can be individually tailored for any client recipient, customised by country, category, brand or data year and published in English or Chinese. Using our bespoke publishing engine to intelligently copy-fit, dynamically create the graphics based on their content and available space on the page, complex data can be visualised as a simple to understand SWOT analysis and output as a single A4 PDF.
Examples of BrandZ personalised, dynamic reports:
BrandZ – Brand Toys

BrandZ – ValueD