At Semaphore the start point is our cloud-based interactive digital storyboard, which enables agencies, strategists, web developers, graphic designers and account managers to collaborate in the campaign planning, visualisation, build and testing of all aspects of the campaign flow in any language, from anywhere in the world.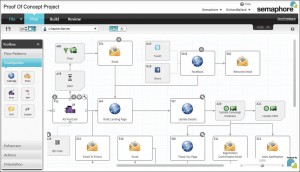 Click image to enlarge.
Once conceptualised, to ensure that there is no compromise to creativity or brand, personalised and dynamic data-driven campaign documents can be produced by your existing creative partners, using industry standard Adobe Create Suite tools.
We can expand the reach of your conversations by including Facebook, LinkedIn or Twitter share links into any document, or increase the engagement level of your social media campaign by integrating your 'Followers' directly into your cross-media conversation.
If you need to deploy regular fully-automated, cross-media campaigns at head office, or at a local franchise level, our unique ChaosLayer™ enables users with little or no campaign management experience, to safely take complete control.
Using our unique ChaosLayer™ users can select a recipient profile; select the campaign template; adapt to the local market conditions where allowed; and initiate a fully integrated, completely accountable and measurable, cross-media campaign … all at the push of a button.
This is only made possible by our bespoke advanced communications engine, which contains all the required technologies to build, maintain, deploy and measure fully integrated multi-channel campaigns from a single source.