The Brief
B&Q is the UK's leading DIY retailer with 321 stores in the UK and 9 in Republic of Ireland and 40,000 product lines. Our brief was to create a system to automate the production of outsourced marketing materials. The system would require immense power and flexibility to withstand the constantly changing demands of retail in the front line, controlling many lines of collateral and producing high volume output to different media types at the last minute.
Our Approach
We started by capturing all available product content, updated directly from their SAPS mainframe and STEPS content management system; images and graphics automatically imported from B&Qs many creative partners into our single-source engine. Now automatically managing and distributing the content of over 196k product images, graphics and videos.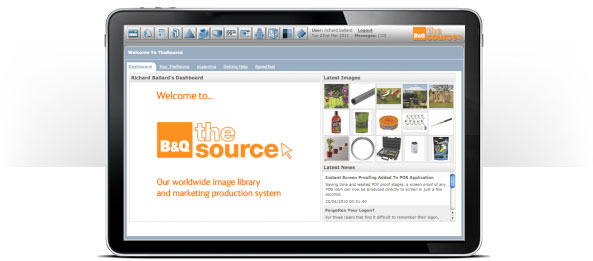 To maximise existing resources, artworkers in B&Q's internal studio were trained to be
able to convert their already highly creative artwork into smart data enabled templates without the need for programmers. Creating over 1000 smart templates to date.
Our unique ChaosLayer™ interface allows B&Q category managers to search from any content available, quickly enhance it to their specific publication needs, adding in the latest deals and pricing in multiple currencies from Excel, select the templates they need and simply merge the product data with custom design templates to publish 1000s of brand perfect items at the push of a button.
With artwork production eliminated, print-ready, imposed PDF files are automatically created for publishing direct to in-store printers, or send via the internal PostRoom to their established commercial printers to produce and distribute the POS.
B&Q now has the power to create, respond, track, analyse and adjust the effectiveness of their campaigns in real time.
Examples of B&Q The Source:
B&Q – The Source 1

B&Q – The Source 2