The Brief
TheStore, WPP's unique retail practice, manage the complex task of publishing the BrandZ Most Valuable Brands results for the Top 100 Global Brands, Top 50 Chinese Brands and Top 50 LATAM Brands.
In addition to publishing a wide range of marketing materials and media coverage, this involves hosting a series of international launch webinars and events.
Our brief was to build a communications engine that would enable the in-house team,
with very little resource, to promote, register and engage with the participants to BrandZ promotional events and publish the complex results at the push of a button.
Our Solution
Our first step was to use our unique ChaosLayer to build a campaign management tool in which all BrandZ campaigns and their associated cross-media materials could be created and managed directly by the in-house team.
A full cross-media, multi-lingual campaign can now be created and tailored for any event in just a few minutes. All required documents such as registration sites, invitation emails, competitions, thank you emails, reminder emails and tracking reports are created in a single click.
Personalisation & dynamic content tags, digital library content and featured links can all be added consistently into any campaign document as required.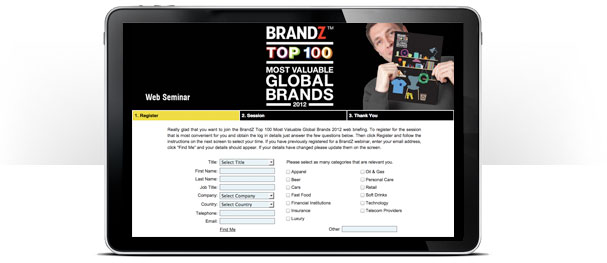 As participants register, their personal details, segment interests and session choice are captured directly into our single-source communications engine, enabling a personalised email to be sent out immediately thanking them for their interest. If we knew them already, they can just look up their detail details from the previous event.
The team then uses the same recipient data to send out the event reminders via the fully integrated email-blasting capability. Then again post event to thank them for attending and to provide the link to the hosted report download.
Allowing the team to constantly make campaign adjustments and practical decisions based on realtime data, everything is tracked in realtime. We instantly know the quality of the email blasting in terms of opened, failed, not read; who has registered, who has read the event reminder, who has clicked to download the post event BrandZ report.
Examples of BrandZ Reports:
BrandZ – Top 100 Brands 2012 Report

BrandZ – Top 50 Chinese Brands